Thanks Celia


Ken,
Thanks for responding.
What to listen to is very subjective and tied , at times, to what you're currently working on. Right now, I'm very high on Clare Fischer, someone I recently discovered. (See my recent "What Record Are You Listening To Today?" entry.) I'm so taken by his harmonic sense and all the inner movement of his voicings.
You are, indeed, fortunate to have that Steinway and somewhere you can use it. I'm in a condo where it's headphones for me. I also have the Roland RD 2000. It's a joy. Great touch. After about a year, I still fiddle around with which piano sounds best with the song I'm working on. All have their place. Try playing with the Aco 1, 3, 5, 7, and 8 settings. The default Vintage is a pretty true Rhodes sound.
Thanks Scott. Will check out CF on Spotify and also these RD 2000 piano and Rhodes sound suggestions. Thanks !

Wow. Have enjoyed reading that. Welcome Ken! Oh you're surely going to love the lessons, courses, 5 minute masterclasses , the community, the brilliant instructors - etc. This is an AH-mazing jazz piano education site - you sure will super enjoy it!

Looking forward to witness your jazz musical journey! Take care and to your family too!
Thanks Kristeta

Welcome @KenB - and thanks for sharing all of this. I'm originally from North Manchester so just a short drive up to Leeds.
I'm familiar with the Leeds International Piano Competition but have not yet managed to attend. What an exciting project to be part of!

Anyhow onto jazz music:
As @scott1 mentioned, listening is a very important aspect of our development as jazz musicians. Every spare minute you have in the day, try to get into the habit of listening.
Similarly, I fell down the trap of not listening to enough jazz (both live and recorded) in the early days of my jazz education. I can say with absolute certainly that regular listening and transcription is a vital component to accelerate our understanding and comprehension of what makes jazz music what it is.
Check out these 2 videos where we discuss the importance of listening and transcription:
Sources of recordings:
@TactfulCactus created 2 wonderful Spotify playlists, you can see them in this thread below.
I see you are a Spotify user and so I'd recommend downloading these playlists into your Spotify account.
Perhaps start with the "Ted Gioia's Jazz Standard Playlist" which contains many of the most common and popular tunes in the jazz standard repertoire.
Christian (@TactfulCactus) has kindly and carefully compiled the playlist containing the exact versions referenced in Ted Gioia's book. There is a really nice selection of recordings from many differently players and instruments.
My recommendation would be to browse through the entire playlist - also utilising time when you are driving or cooking to casually listen in the background - and make note of the songs you like, and also the players that you like the sound of.
We also have a lot of recordings in our "What Are You Listening To Today" thread which contains submissions from our students and teachers:
Take a browse through and you are sure to find some recordings and artists that you like.
Transcription & Ear Training
After watching the 2 videos referenced above you will have heard the emphasis on listening and transcription.
@Tuomo has created a selection of ear training exercises and transcription studies in this area of the forum:
https://community.pianogroove.com/c/improvisation-exercises
Whilst it's important to learn the theory behind chords, voicings, and progressions etc… , it's also important to be consistently working on our listening skills by working out melodies and chords using just our ears.
I'd recommend that you start with the beginner and intermeidiate ear training exercises, and this will equip you with the skill you need to start learning directly from your favourite recordings.
Every time that you sit down at the piano, spend a little time on one of these exercises. The answers can be downloaded in PDF format but try to refrain from checking until you have really given the exercise a good attempt.
When we have developed our ears to a point that we can pick up licks, lines, vocings, and fills, directly from our favourite recordings, it is a very liberating a rewarding place to be. So spend some time on those exercises!!

Aspirations to play in a jazz band:
This is a very realistic goal Ken, but I would say it is a short to medium term goal just to give you an idea of timescales.
The most important step would be to watch a LOT of live jazz, here's a link containing many of the jazz spots in Leeds where you can find jazz jams and other events:
As well as listening to the music, make note of the common tunes that are played and learn these as a priority.
Most importantly, analyse the stage etiquette and how the musicians are interacting with each other during performance. Often this is just very subtle visual cues to pass solos around the room, or to indicate when to finish the tune, but it is very important to understand these cues as a performer - particularly if you want to play at a jam session where you will be playing with people that likely you have never performed with before.
Finally, guidance on our courses and syllabuses:
If there are any topics you are particularly interested in, let me know and I will point you towards certain areas of the lesson library.
I'd recommend to peruse our syllabus pages and look over the "Learning Path" sections which give a nice 'birds-eye-view' on the progression through the topics. Here's our syllabus index:
https://www.pianogroove.com/syllabuses/
We also have practice planners on our first 4 jazz courses. These courses contain a sizeable chunk of beginner/intermediate jazz theory and once you have completed these courses, and the jazz standard studies within them, you will be feeling much more confident with jazz harmony and reading and interpreting lead sheets.
Here's the section of the forum which contains the PDF planners and also discussion threads with additional info and guidance from myself and our other students:
https://community.pianogroove.com/c/practice-inspiration/practice-plans/
I hope all this helps to give you some initial direction Ken and here to help should you have any questions with the materials.
Cheers,
Hayden
Warm welcome @KenB
Enjoy the journey !!
ps i try to find the Billy Taylor's "I Wonder What it would feel like…" google search without success
Thanks Pierrot
Apologies re song title: It is of course "I wish I knew how it would feel to be free". There are various YouTube videos of it, etc. It is a simple tune but a real toe-tapper

PS - It's also on p195 of The Real Book (sixth ed) if you have it.
Hayden, thanks so much for taking the time to write in such detail. It makes a new student feel very welcome and is really helpful

I assume you are London (or US ?) based now ? The next Leeds piano competition is Sep 2021 (coronavirus permitting !) and we are planning a huge amount of piano-based activity then throughout the city (street piano, piano trail, and other outreach activities alongside the competition itself). Do let me know if you want to get involved or just want some tickets !
Thanks for pointing me at the listening resources. I have to say though I find that incredible Spotify list (what an amazing piece of work by @TactfulCactus !) a bit daunting as a newcomer to jazz. An incredible reference resource to access though.
Do you know if anyone has put together a similar (but much smaller !) playlist of all the PianoGroove standards covered in the course ? This would be very useful listening I would imagine, for a beginner at least.
I love the ear training resources. Reminds me of when I used to try to pick out melodies and chords from tape recorded radio tunes as a teenager ! I will definitely utilise these as part of my practice.
On the basis of walking before you run, I will keep the jazz band aspirations firmly on the "back burner" whilst I work through your courses. One day though !
All noted re syllabus and practice plans. The resources you have available seem tremendous and I will also take the advice in your email about running some courses in parallel.
I also watched your live-stream video today. Really excellent and very helpful for me to get to grips with the landscape of learning jazz piano. One comment you made about your own practice regime when starting out, has already inspired me to a decision to devote two hrs per day using your routine of 1hr in the morning and 1hr in the evening. This would work well for me and hopefully a solid two hours per day will allow me to experience real progress


Thanks again for all your help and encouragement so far.
hello
Did i miss something ? what are you talking about Ken ?
Hi Pierre

I sent Ken the archived Beginner Jazz Q&A from a few weeks ago… you can find the archived video here:
It will have a permanent home in the new live event section of the site once it's created.
Cheers!
Hayden
Hey Hayden !
wow a big program in progress really cooll
Thanks
My pleasure Ken - happy to help out.
Yes I spend a lot of time in the USA working with our teachers. I'm occasionally back in Manchester to visit family and I'd love to attend the Leeds Piano Competition. I will add the date to my calendar and get in touch closer to the time.
The street pianos are a brilliant idea. I always love finding a public piano to play on; it's a wonderful way to bring everyone together in the street.
On a related note, check out this (now global) initiative by an British chap:
I like how the pianos are painted by local artists creating a fusion of local art and musical talent!
Tuomo has compiled biographies and suggested discographies for many great piano players. I recommend students to read into the biographies as it's always nice to know a little bit about the background of the player.
Check out these pages which contain the biographies and suggested discographies of the following prominent players:
In terms of creating playlists around the lessons on PianoGroove, for any tune you are working on I like to create a dedicated playlist on Spotify with my favourite versions.
I posted here different search terms you can use to find solo piano recordings, trio recordings etc…
Check out that post.


That's wonderful - glad to hear you enjoyed it the live stream.
Yes 2 hours a day is a good amount to aim for. Stick to that for a few weeks and you will see rapid progression.
Often I don't feel that I'm making progress with something I'm working on, so I sleep on it and come back to it the next day with a fresh mind and it makes a world of difference.
There is a lot of theory to learn as a beginner, so if you're feeling overwhelmed take a break, perhaps play some jazz standards, and come back to the theory drills the next day.
My pleasure - here to help!
Cheers,
Hayden
Excellent, thanks Hayden. I am going to get off forums now and onto courses…

Hayden,
You mentioned that "street pianos are a brilliant idea. I always love finding a public piano to play on; it's a wonderful way to bring everyone together in the street."
Here's what's being done in Portland by an organization called Piano! Push Play. There's an online location map, and they've come up with a piano passport, where you can put a stamp when you play at a given location.
Hi my name is Nemanja.
I have been playing for several years now but I have never had any formal piano or music training.
I have a pretty good ear and have jammed with other amateur musicians. I also often like to play along to recorded music and figure out the key, think about the changes etc.
I love listening to music and can listen quite closely. I have also spent a lot of time reading theory and I think I have a decent general understanding about how things fit together musically.
However my technique is pretty sloppy because I hardly ever practice formal drills etc. and when I do it doesn't last too long.
I have just started watching the video 'foundations practice guide' and honestly feel a bit overwhelmed and embarrassed that I am so slow at many of these exercises. There is a lot for me lot to do here.
I would like to start playing more seriously and hopefully to improve.
The main thing I am looking for from this course is to add routine and structure to my practicing (but hopefully to still have fun playing).
If you have any tips on good routines, motivation for drills, time management when practicing etc. please let me know!
Thanks for your help:)
Hi Nemanja

Welcome to PianoGroove!
That's wonderful that you have worked on your listening skills and play along with records to figure out the key and the chord changes. Listening, transcribing, and emulating the sounds we hear on our favourite recordings is essential to absorb the feel of jazz music.
If you want to work on your listening skills further, check out Tuomo's ear training and transcription exercises here:
We recommend all students to regularly work on their listening and transcription skills in addition to the video lessons. Any questions with that stuff @Tuomo will happily assist you in his area of the forum.
Moving Onto Practice Routines & Structure
For your questions regarding practice routines, structure, and time management, here's some useful info and links:
Firstly check out this short video I created for using our practice planners:
We have practice planners for the first 4 jazz theory courses, you can find them here:
These 4 jazz courses cover a large proportion of jazz theory, and once you have a good understanding of these areas you will be much more comfortable with jazz harmony.
You can alternate days on each plan, for example, 1 day on the foundations plan, the next day the chord extensions plan, and the next day the rootless voicings plan. Find a balance that works for you at your current level.
Alternating the planners ensures that you are visiting different theory and you will see how the foundational theory is developed and applied in the subsequent courses.
One of our students - @TactfulCactus - posted a nice review of the system here:
Live Session For Questions & Guidance
We are soon launching our live session section of the website and on a weekly basis students can get direct feedback from our teaching team.
I hosted our first Q&A on Beginner Jazz Theory which you may find interesting to watch. There are many questions relating to practice routines and staying motivated to work on the drills and exercises. Check out the archived recording of the session here:
Courses To Study
In terms of courses to study, I recommend that new students study the following 3 courses together:
1) Jazz Piano Foundations:
2) Beginner Jazz Arrangements:
3) Extended Chords & Voicings
The next step:
The following 3 courses would be the next step to delve into more advanced jazz theory, harmony, and arranging techniques:
4) Mastering Rootless Voicings
5) Altered Harmony & Upper Structure Triads
6) Chord Substitution & Reharmonisation
Practice Planners & Associated Lessons:
For courses 1, 3, 4, & 5 above, you can find the PDF practice planners here, and dedicated practice lessons in each course. Scroll down on the course pages and you will see the practice-oriented course module like this: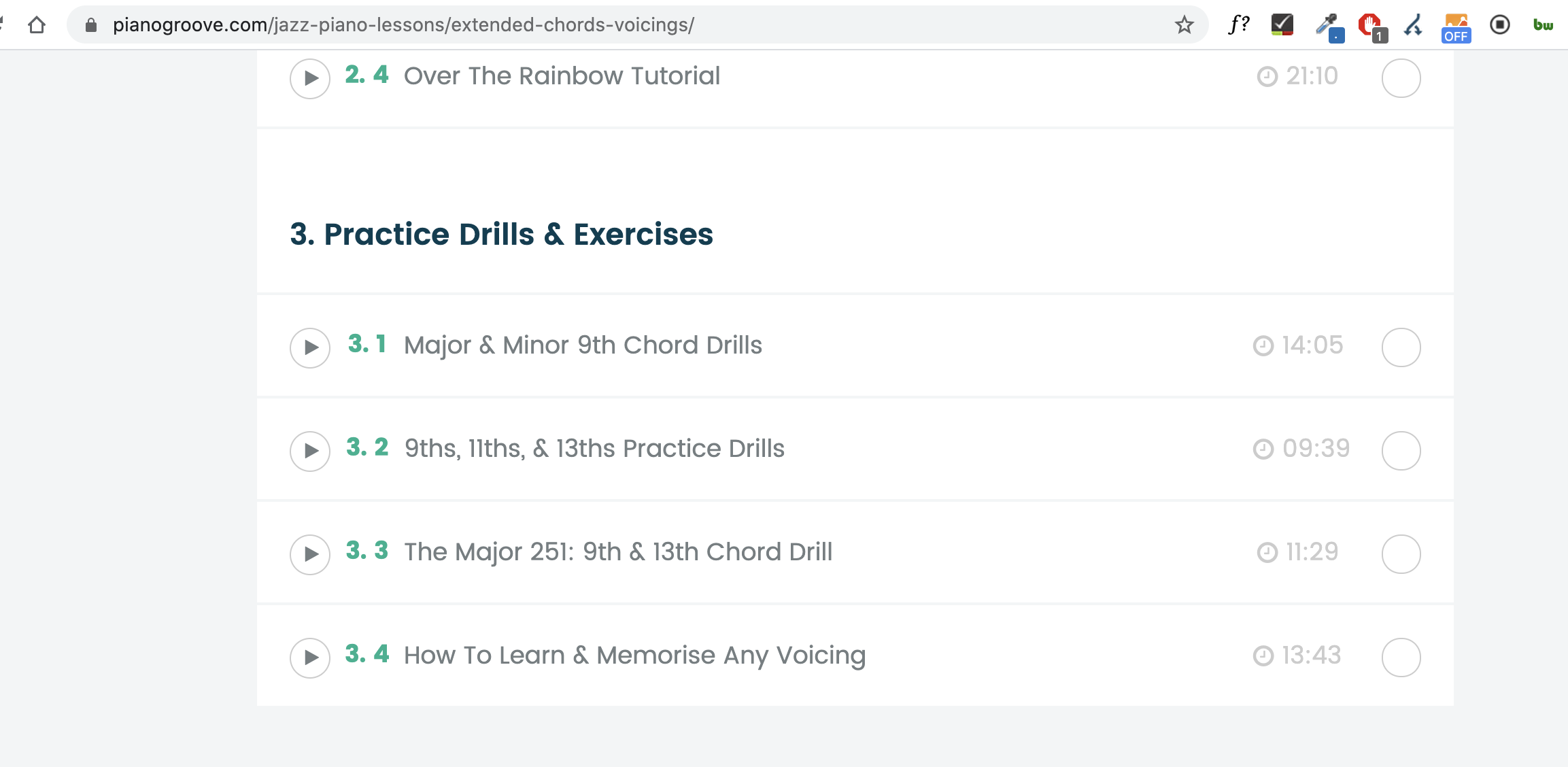 Hope that helps @nemanja - if you have any further questions just let us know.
Enjoy the lessons!
Hayden
Thanks for your detailed answer @Hayden. Much appreciated

Hi Groovers,
My name's Izzy and I'm from the Wirral, a picturesque peninsula over the river from Liverpool. I'm a piano teacher and have dabbled in jazz for years - had a couple of teachers but only for a few months at a time (one was always too hungover to teach! the other left teaching for another job). So, here I am doing the online thing … and it's great! I appreciate the gentle, unforced style of Hayden, and the range of levels of the material. I also play trumpet in a big band, trad fiddle, and guitar to noodling level. So for variety, I'm trying to co-learn jazz standards on all four - not in a particularly aggressive or ambitious way - just as suits me. Piano is first though! Like many folks on here, I left music for a few years - in my case I was an earthquake scientist, and so I travelled a lot, lived in California, did fieldwork in South America - so no regrets there at all. But I realised that my brain fundamentally works on a musical plane more than anything else, so I came back to my roots, and never been happier. Good luck to everyone in their own unique musical journey.
Welcome to PianoGroove @Izzy
Congratulations on playing 4 instruments - that's impressive!

I think it's a wise choice to choose the piano to explore the intricacies of jazz harmony. The piano is unique in that we can easily visualise voicings, progressions, and how harmony moves.
My view is that once we can play and visualise common progressions on the piano we can then apply and translate this information to other instruments if we play them.
When I was younger I took some lessons with an accomplished jazz guitarist who had a piano in his home. Despite the guitar being his main instrument, he told me that he finds the linear layout of the piano very useful for exploring new concepts.
If there are any topics in particular that you are interested in, let me know and I will point you towards certain lessons and courses.
Here are some useful index pages to help search though the contents of the site:
You can also use the search feature to find jazz standards or theory areas that are of interest to you.
I hope this helps Izzy.
Have fun with the lessons!
Cheers,
Hayden