hello
I got a new toy and get such a cool moment !! So i i would like to share my experience with you and talk about little keyboards for travelling .
Long time looking for a little keyboard which i could travel with . So its time to open this topic for travelling piano keyboard.
On the market pretty lot of master keybaord which got no inside sound
heres a nice review of those
Mini MIDI Keyboard Comparison - YouTube
Some are made for
If we are taking train or plane impossible to have more than very little one
which we can plug in our phones . For the moment android phones got problem of latency ( when you hit a note too much time for hearing it in your headphone. )
I try little keyboard like the irig pro which you can plug or use with bluetooth with your iphone , but not much touch sensible and already pretty big in the bag, and we need to have an iphone . I admit i am not a big Apple lover ;), but i love the fruit .
We are all looking for diferent things depending our diffferent needs
I discover this litlle one Akai Professional Mpk Mini Play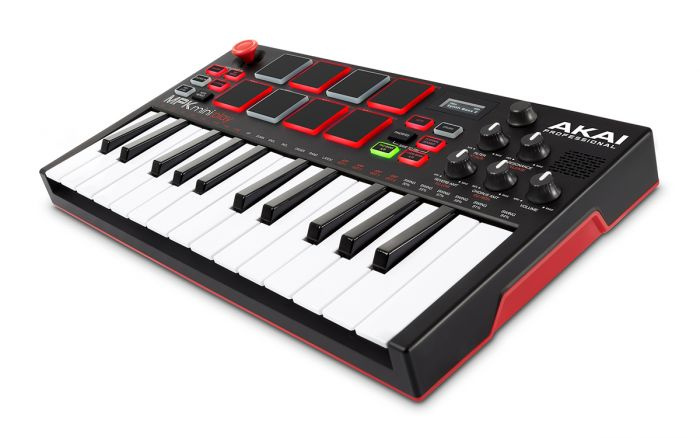 I play yesterday with it on my knee , in my last plane travel for 1 .30 hour and it was really too much fun … able to work about harmony play songs with the limitation of a short keyboard ,looking other traveller faces and attitude to compose live for myself



without annoying others , with the noise of the plane no keyboard noise audible . Never got this possibility with any other instrument anyway !! First time i found the time was passing away too quick in a plane ! Lovely experience !!
At first I was pretty not sure of the interest of such a little toy … but now i love this piece of gear . Even not at all perfect this keyboard is really lovely .
127 sounds and 10 drums set some are cool and the sentitivity of keys and pad are present , the sound sound can be embeded (some filters , reverv chorus ) . The best of all is his size of the piece 32x18x4 cm and can be put in any bag .The keys although their small size are playable
positive review akai mpk mini PLAY demo (pt.1) - YouTube
But some sound are really not good … no recorder , the keys are pretty plastic basic … the price pretty hight 130 euros
negative review AKAI MPK MINI PLAY FIRST LOOK & SOUND TEST! - YouTube
Theres really a gap in those traveling keyboard . With the nowadays technology we could really have much better one … but curiously not much on the market Theres a great keyboard like this , the reface of yamaha 530 x 60 x 175 mm which is a real instrument 330 euros though.
Maybe you are using different keyboard for travelling and i love to hear your experience about it .