Thanks Kristeta, will do

Welcome Ricardo,
Sounds like you've already settled in a bit with the course structure. I've been here for about two years and am still exploring, discovering, struggling at times, and learning something new. You zeroed in on what made me choose PianoGroove when you said,
I've really appreciated Hayden's very clear lessons and am understanding things that i'd only half understood previously. I like the methodical way that it is suggested you proceed as I really need that.
Let us know how you're getting on from time to time, and please share some of the records you're listening to. I'm not familiar with Joao Donato, but I'm going to check him out. Maybe you could share a favorite YouTube video or two to let us know what some of his best tunes are.
At any rate, have fun.

A warm welcome to you Richard! I know you will enjoy your learning journey with PianoGroove. For me, it only gets better as time passes. Much like Scott, I celebrate my two year anniversary this week!
Richard,
Thanks for sharing. Nice tune.
Next time you share a tune, it's best if you put it in the"What Record Are You Listening To Today?" (or other relevant section). Otherwise, many won't see it if you put it somewhere else.
Cheers.

Hi Richard,
Welcome to PianoGroove!
Great to hear you found Jovino's tutorial on A Rã - that lesson is part of Jovino's course on Triad Improvisation Concepts which was also the topic of his first live session that took place last week.
You can see the archived version of the live session here: Beyond Scales & Modes: Improvisation Masterclass w/ Jovino Santos Neto - check that out as I think you will be interested in the contents.
This will soon be migrated to the new LIVE section of the website which will house the past and upcoming live sessions.
Recommendations for courses and lessons:
You are correct that the Brazilian lessons are not for complete beginners. The following 4 jazz courses cover a sizeable chunk of jazz harmony theory, and once you are comfortable with these topics you will be able to follow all of Jovino's teachings.
These courses are all taught by myself and each of these courses has a PDF practice planner to help you plan and structure your practice time.
You will see that the final module in each course is "Practice Drills & Exercises" where we drill the theory around all 12 keys.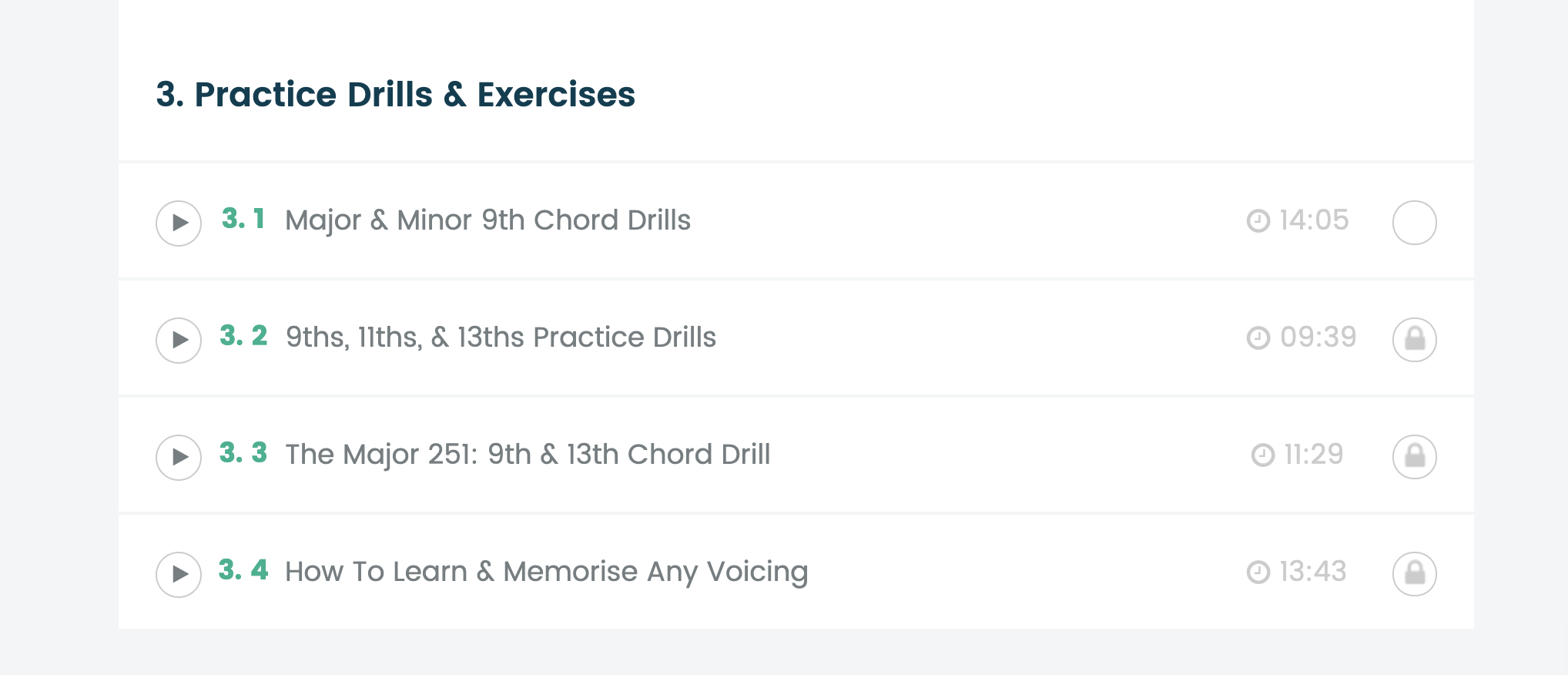 I recommend students to spilt practice time in half, first theory drills, and then playing and learning jazz standards. You can see more in this video: Read Me! How To Use The Practice Planners ✅


That's a very realistic goal Richard.
Building out your repertoire of jazz standards is an important step and so try to learn a new jazz standard or 2 each month.
Attending jam nights at local jazz clubs is a great way to get into the jam scene. After attending a few jam nights, you will start to hear certain tunes that are commonly played and so make note of these and learn them.
Using tools like the iRealPro is useful to practice in-tempo and it's great to bridge the gap between playing on your own and with other musicians. Check out this forum thread for more info:
If you need any more guidance with the website just let us know.
Cheers and enjoy the lessons!
Hayden
Thanks very much Hayden for the tips. That sounds like a good way forward and I'm going to print off all the various practice planners.
Richard
Hi. Richard - Welcome!

Thanks for sharing your musical journey - that was inspiring to read. As Celia mentioned, it only gets better. Very excited for you - hope you keep us posted about your jazz explorations. Happy playing!
Hi there,
I am Eric from Singapore. I started learning Ballad Piano in my 50s from a teacher. As she left for her further study and I then began to explore the possibility of the on line lessons.
I have been using PianoGroove platform for about 3 days by now and I must say it is really awesome, for its resourcefulness , ease of use and most important its responsiveness and serviceability of the support team.
I still need to figure out what's best for my learning strategy but most importantly as what's Hayden has advised me personally is commitment , dedication and his suggested practice routine.
As in the past I am just relying very much on fake music book, transcriptions of others and that dependancy limits my "fun" of jazzing up as well as neglecting the theory part. I am still trying to figure out how I could best to journey with PianoGroove as there are just plentiful there to explore.
Meantime, I have started with the Jazz foundation Basic and Standard Jazz and I am already quite certain PianoGroove is the right choice for me.
Thank you Hayden and PianoGroove team.
Cheers
Welcome Eric,
I'm sure you'll find your way quickly. It is sort of overwhelming at first. (And just when you start feeling comfortable, the new material becomes overwhelming again

)
You might read through Hayden's response to Richard above. There, he pretty clearly suggests the best way forward. You mentioned Hayden's comments about "commitment , dedication and his suggested practice routine." To that I would add: Try not to be overly critical of yourself as you make your way through the various courses. Be patient, and most of all–have fun.

Welcome Eric!
Yes do follow the advice I emailed you regarding over-reliance on transcriptions.
As @scott1 highlighted, take a read through some of the guidance and suggestions in this thread and much of it will be applicable to you at this stage of your jazz piano journey.
Also here's a handful of useful forum threads which I suggest new students to read over:
If you do have any questions with any of the materials don't hesitate to ask.
Stay safe and enjoy the lessons!
Cheers,
Hayden
Hi!
I'm Edgar de Graaff, 36 years old. As a kid my father (musician and teacher) tried to teach me classical pieces on the piano, however it was the age when it was getting common to have a computer in a house. I went for the latter, spent a LOT of time developing applications when I was a kid and made it later my profession. Which I enjoy a lot.
It was always to pick up music for me. The serious turnaround came when I was on a roadtrip with a friend of mine. Back then, I was into producing house tracks and always on the lookout for good samples. But instead of using whatever others played, why not play it myself? Spent some time watching Rhodes repair videos and thought: yeah I can do that!
So I bought a MK1 from '78 which was in a pretty bad condition and started restoring it. Along the way, I taught myself playing some basic stuff with the help of musical theory videos. Unfortunately I never got the EP fully working again, so I sold it and bought a stage piano instead.
About 3 years ago we moved from The Netherlands to Germany. Since my job is still in The Netherlands, I rent a room and spend 3 days per week over there. This is my "mancave"; this room has nothing else but keys and a bed. Basically no distraction at all!
This was the period in which I started to play more seriously and quickly got into jazz. One of the things I enjoy a lot is transcribing jazz / fusion. Getting all alterations exactly right can be quite a big puzzle, but once all "flavours" are known, it speeds up the process a lot. Also you get to know the habits of an artists. For example: when guessing a Jeff Lorber chord, best to start with 7#9

Nowadays it looks a bit different. I permanently work from home and kids occupy a lot of my day. Needless to say it's much harder to find the time to play (not just play something, but spend enough time to actually learn something new too). So that's why I subscribed, to push myself to claim time on a day to do it. My work doesn't create a skill I can use in my personal life and let others enjoy it, but music does! So totally worth giving it more priority.
So why PianoGroove? The level goes high. There's definitely a lot to learn here for me. When playing, I mainly work with sheet music. It's merely a help for my memory. What I like about the videos is the explanation about why a certain alteration was chosen over the other one. Hoping to be able to harmonise melodies in an interesting way myself one day. Or jam somewhere, who knows!
Anyway, enough typing, I'm spending too much time on the wrong keyboard!
Hi Edgar!
So happy you have joined PianoGroove…warm welcome! You have indeed found the right place to continue your music journey. There are excellent instructors covering a wide array of styles. Personally, I have not found a piano learning site that comes close to what PianoGroove offers.
Do be sure and carve out time for your musical growth and enjoyment. I am sorry that I did not do that earlier in my life, but better late than never.

Just remember…have fun with it!!!
Welcome Edgar.
You've made a great choice with PianoGroove! I've been here for about two years, and I still find something of interest/use every time I log on. The site continues to steadily develop.
As you said, there's much to learn here, and it's quite clearly explained through both the videos and the accompanying PDF files. The fact that you already transcribe regularly gives you an advantage over most who start out here. (And thanks for the tip on Jeff Lorber.

)
Have fun!
welcome ! have fun with it.
hi Eric welcome; pick a tune you like out of the lessons and have fun; don't ONLY focus on theory. enjoy
Thanks for the warm welcome!!
Hi Hayden—-I am 44 years old, took piano lessons through my teenage years. Music has always been a part of my life—and don't to give it up. I have a deep desire to learn jazz piano. It's an enigma I need to crack—and keep on cracking. I love practicing as long as I'm progressing and can actually PLAY something.
Simply finding a way to learn jazz piano is difficult—-I mean, REALLY learn. There are dozens of ways presented—-but the scary thing is most of them will be a waste of time and money—-which makes me sad.
I'm really hoping PianoGroove will give me the structure and balance between theory and music to be able to progress and enjoy the journey.
Toby
PS—-tonight I started making flash cards to learn the number positions of each major chord.
Welcome @toby2
Not one way to learn jazz for sure !

we just try to find our way the best we can

but most of all having fun is anyway the big engine for improving
so take fun with tunes
Warm welcome Toby!!!
" I love practicing as long as I'm progressing and can actually PLAY something." You have found the right place! Hayden is very vocal that it is important to learn songs in conjunction with studying theory. For me, the theory would never ingrain itself in my mind unless I was able to apply it to a song and I would undoubtedly get bored and give up. I am two years into the program and working on 40 songs. I am loving it!
Have fun and share your progress with us!