Basics on Breathing for Singing
In my first Breathwork post, I walk you through the basics of supported, healthy breathing for singers. Bringing in all that awareness of diaphragmatic breathing; I now want to walk you through some exercises to help integrate those healthy habits.
Pattern Breathing Exercises
By working on breathing technique outside the realm of your singing, you put a spotlight on it which can help you assess your breathing habits, make adjustments and instill any changes necessary for fully supported singing.
Using Patterned Breathing Exercises is a great way to do this. And it's uber simple.
To the beat of your metronome, you will count your breath in set patterns. (see below) Many of you have probably already done this in Yoga or mediation practice?
For example, you breath in for a count of 4, then exhale for a count of 8. As you repeat this pattern, with the metronome clicking away, you keep track of your beats at the same time you count the repetitions in cycles of 4, 8, 12, 16, and 32.
Important Points of the Exercise
Let me breakdown all the important points in doing this patterned breathing ….
#1 – Your inhale should be silent, but gulping air with both mouth and nose open.
#2 – Your awareness should be on pulling in the air down deep, to the bottom of your lungs; expanding your diagphrapm. See link below for more details on this.
#3 – Your exhale should be rationed so that you run out of breath at just right moment; the end of the count for the exhale.
#4 – You can use the Hsss sound to engage the diaphragm, a sigh to release tension in throat, mmm to relax the body or just exhale with no sound, keep the throat open.
#5 – Use the metronome to keep the beats regular. You can set it to any tempo, but 120 should be your default. If a metronome is not possible in a particular situation, use your internal metronome to try to keep the beats steady.
#6 – Keeping count of the beats for your breath + the number of times you've repeated the cycle will help you achieve intuitive counting. This counting with in counting skill comes in very handy.
7 – Do variations such as…
4 in, 8 out
6 in, 6 out
8 in, 8 out
6 in, 12 out
ect.
… maybe not all on the same day:grinning:, but over time, try out all the different patterns. Also, keep changing up how often you repeat a certain pattern.
Start Your Singing Practice with Breathing Exercises
This is a wondeful way to start your singing practice. Stay aware of your breath through out the exercises that you'll run from 2-5 minutes. Make sure you are breathing silently, and all the way into the bottom of your lungs.
You'll find that when you start singing after this warm up, your breath work is centered and your voice supported. Overtime, you'll find that your lung capactity is growing, as well as the skill of rationing breath to hold notes and control volume.
Square Breath
A great pattern to start with is Square Breathing. This exercise is not only good for breath control but also helps to relax the body and mind.
You breath …
in for 4 - hold for 4 - out for 4 - hold for 4
and repeat…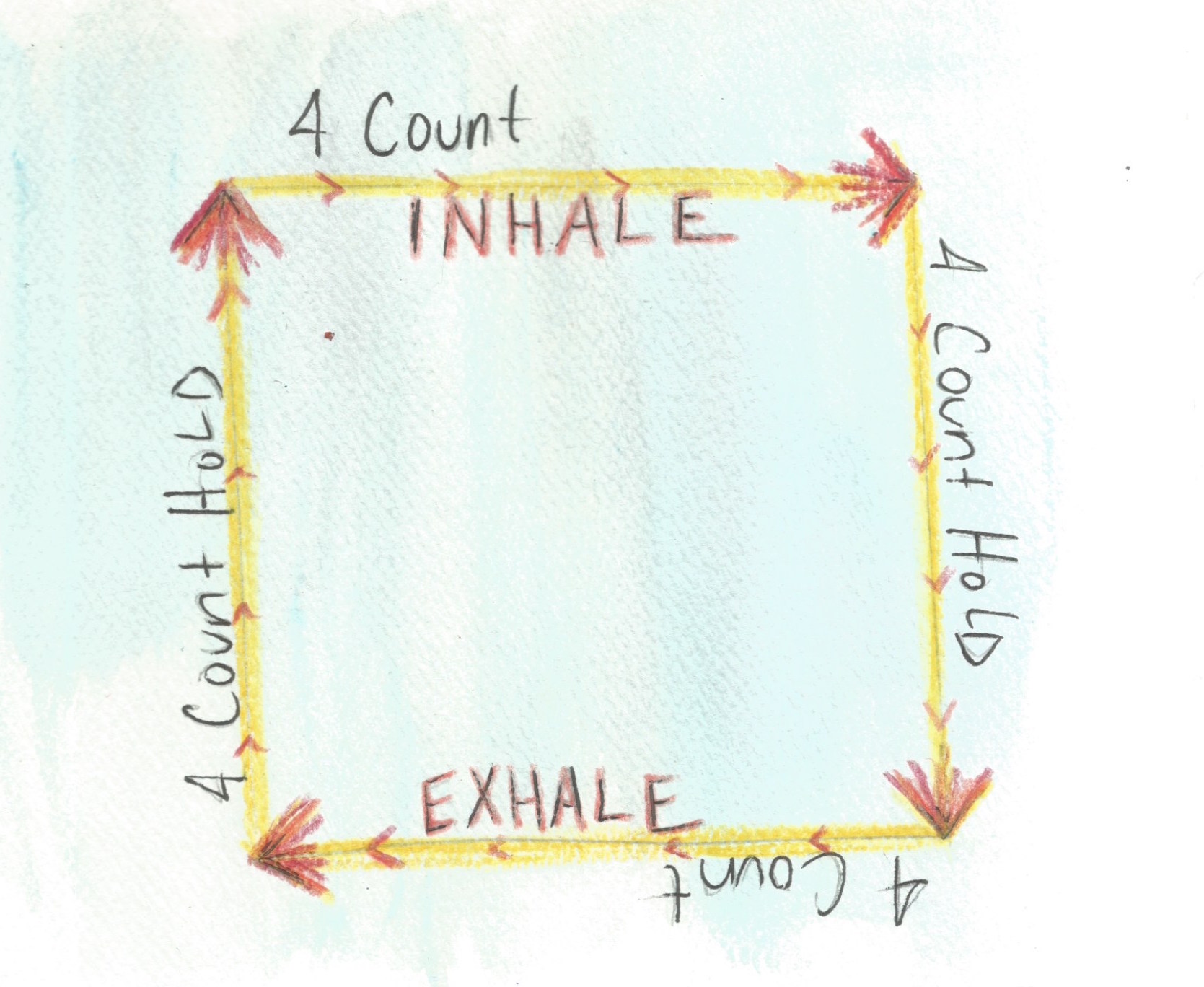 When you do this 16 + times you'll find you feel very centered and ready to sing!
I've started doing this breathwork when I'm out and about – waiting in a long line, or on a crowded subway. It's a great way to slip in voice practice to a busy day whilst integrating a great habit to stay calm and centered.
It's worked for me in the middle of the crazy crowded streets of NYC, so I can attest to it's effectiveness. Try it for yourself and let me know how it goes.