FYI: VI Labs has a Black Friday 35% discount on the Ravenscroft 275. It's $129.00 instead of $199.00. According to their promotional email,
Sale ends November 30th so don't miss the best deals of the year! Visit vilabsaudio.com for details and to order.
Here's another promo in case someone's interested:
Our 2020 Holiday Sale starts today with 30% OFF STOREWIDE! And get an additional 10% off by purchasing two or more libraries. If you missed Black Friday, now's your chance!
Modern U, our newest library, is only $118! Sampled from a brand new popular studio upright with a modern approach and super clean sound.
Ravenscroft 275, our premiere concert grand, is just $139! The go-to VST piano library for numerous professional musicians worldwide.
Each and any True Keys concert grand piano for only $104! Get the American, German, and Italian Grands, each with their distinct character perfect for any mix or genre.
Sale ends January 1st so don't miss this chance to get our final discounts for the year! Visit vilabsaudio.com for details and to order.
Haydon, Would you mind sharing your settings for Ravenscroft 275? I would to get the same sound that you do.
Tom
Hi @TomLC

Yes totally, I didn't set this up myself as I have limited knowledge in this area, but I think the below settings/tweaks are what is creating the sound.
The Ravenscroft is installed into my Logic workbook that I record all lessons with, and I also see that a Compressor is added to the "PG Piano" channel. I have included screenshots of all the settings below.
Let me know if that helps, if not I can reach out to the guys who set it up for me and perhaps he did something else too.
Cheers,
Hayden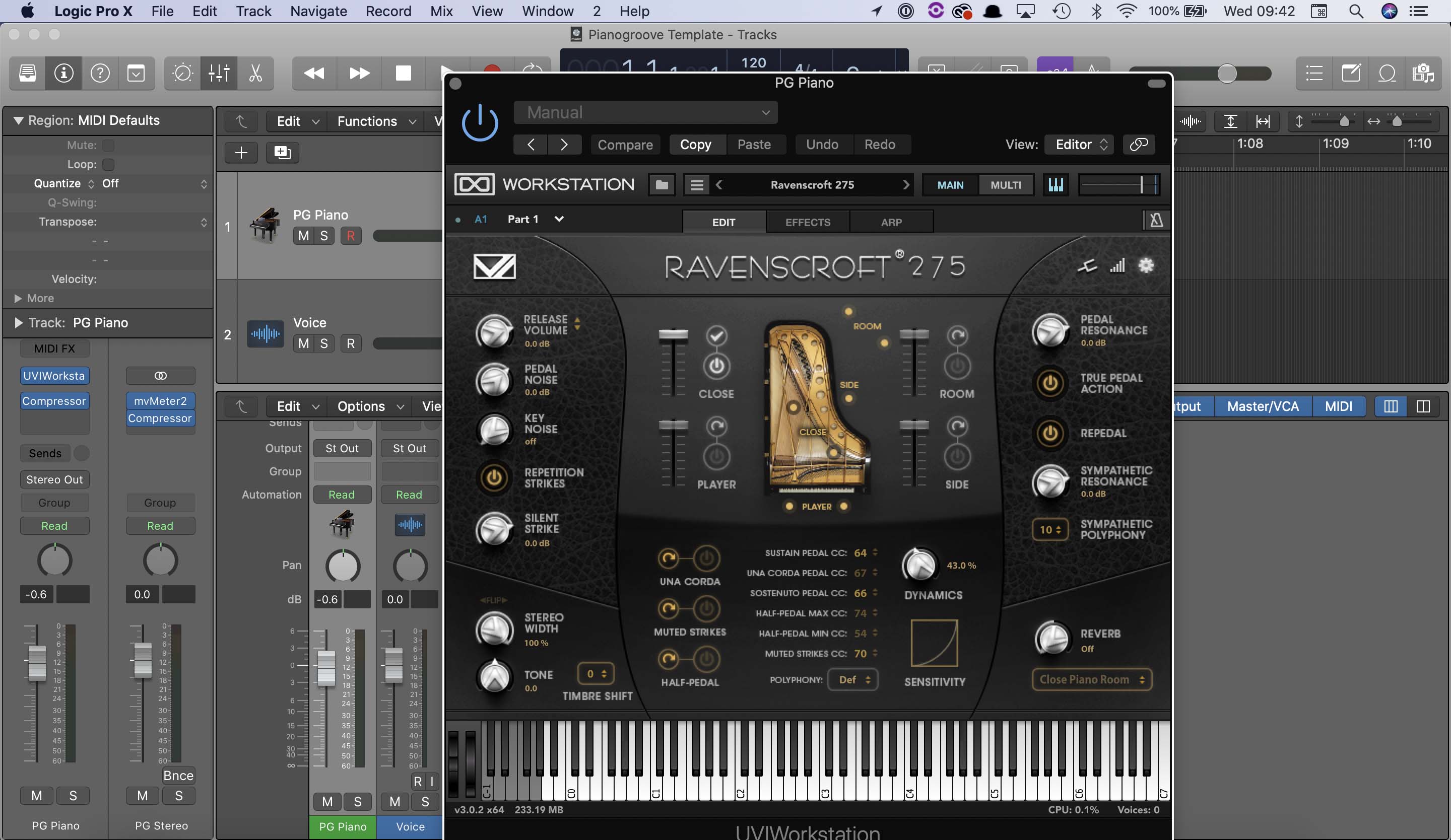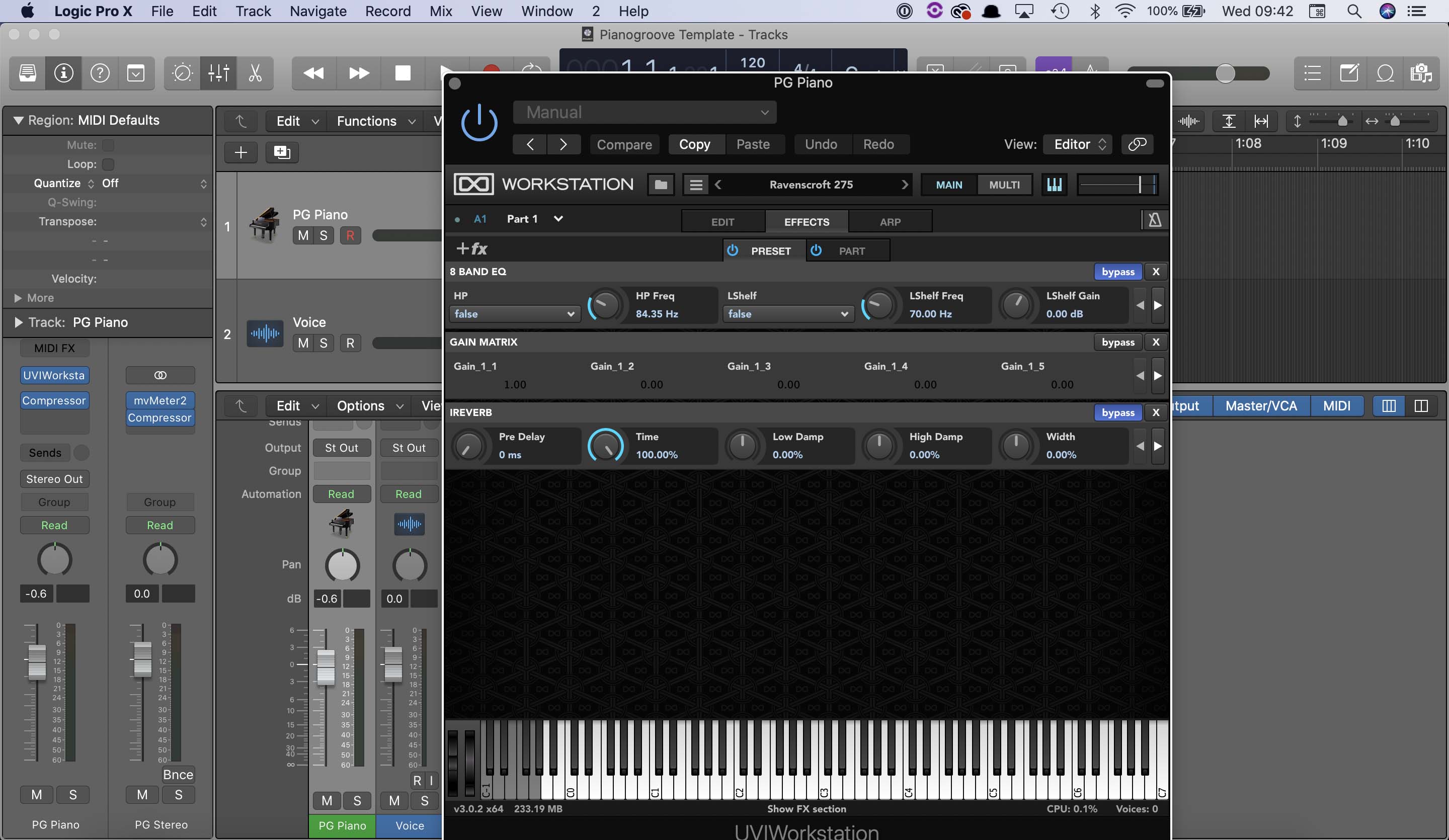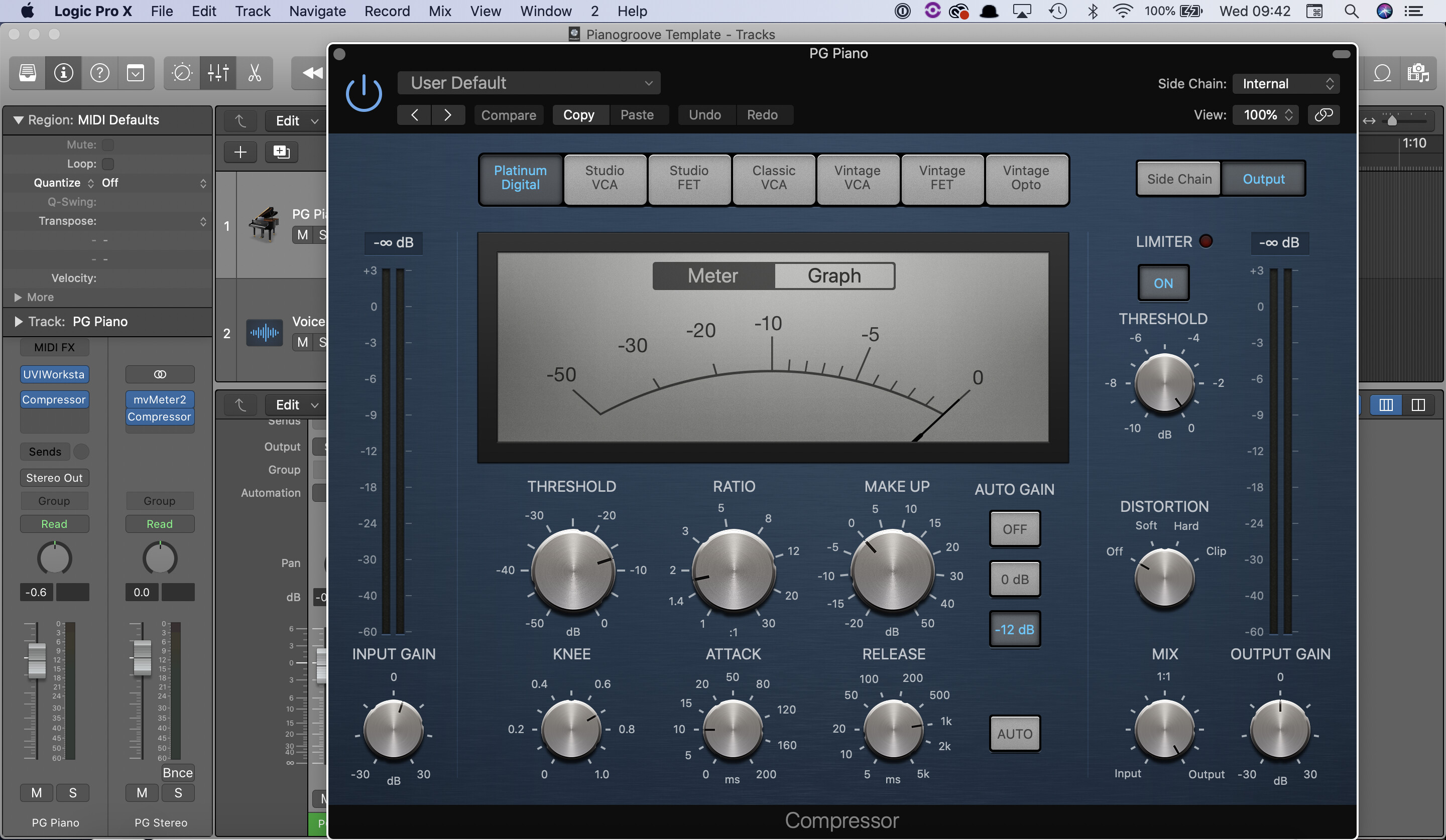 Thanks for sharing, Hayden! I have become a R275 convert based on this thread, have spent some time trying out and learning about different settings, and so was very interested to see this post.
A question and a couple points of clarification that may be useful for others.
Q: Hayden, can you take one more screenshot that shows your velocity curve? From the main screen (your first image), click the icon on the upper right between the tuning fork and gearwheel (looks like a set of stairs). That will open up the velocity control window, and I would be interested to know if your setup uses the default velocity (0,0 to 127,127 linear) or something else?
For TomLC and others who may be interested, the sound depends very much on listening conditions, room, speakers, headphones, etc. Having said that, I think the best way to experiment with different sound qualities is to mix the microphone positions. Default is 100% Close, the way Hayden has it set up. But adding in 5% - 50% of Player, Side, and/or Room will have a big effect. (In my hands, Room has too much reverb; also, my computer, a powerful MacBook Pro, can only handle one additional microphone sample set, and I like the quality that comes from 100% Close + ~25% Player or Side).
Also, in Hayden's settings, I'm surprised to see Dynamics turned down to 43% (default is 96%). This limits the dynamic response of output volume; in other words, at 96%, a soft touch sounds soft and a heavy touch sounds loud, but at 43%, touch won't have nearly as much effect and volume will be moderate the whole time. (This is similar to the compression that goes on in Logic or any DAW).
Finally, the biggest impact on sound for me (in addition to the microphone mix) is the velocity curve. I prefer a curve that is pulled down a little bit, but it will be different for everyone's mix of controller, touch, listening conditions, and personal taste). A good way to learn about and experiment with different velocity curves is to open the panel (as above), then start playing, and watch the screen. It will show both input velocity (what your hands and midi controller are doing) and output velocity (what the program is sending to the D/A card. Range of velocity is 1 - 127, and most people will want to be able to easily go from ~25 to ~ 100 in output velocity. (You can adjust your velocity curve with the knob to achieve that range).
Sorry for going on so long but I thought I might save others some time.
Gregb, I have found that adding the player mics at 50% and side mics at 25% sounds best. I use headphones and find it sounds much brighter than Hayden's videos. So I set the tone dial to -1.5. I'm still not real pleased with that however. If you any advice for that I will appreciate it. Also, my controller is a hybrid piano. So I turn off the key release and damper noise as my piano already produces them mechanically. I meant to add that turning the dynamics knob to 43 causes double strikes. Especially in the higher octaves.
Awesome breakdown here @gregb - I will play around with all these settings.
Here's a screenshot of my velocity curve: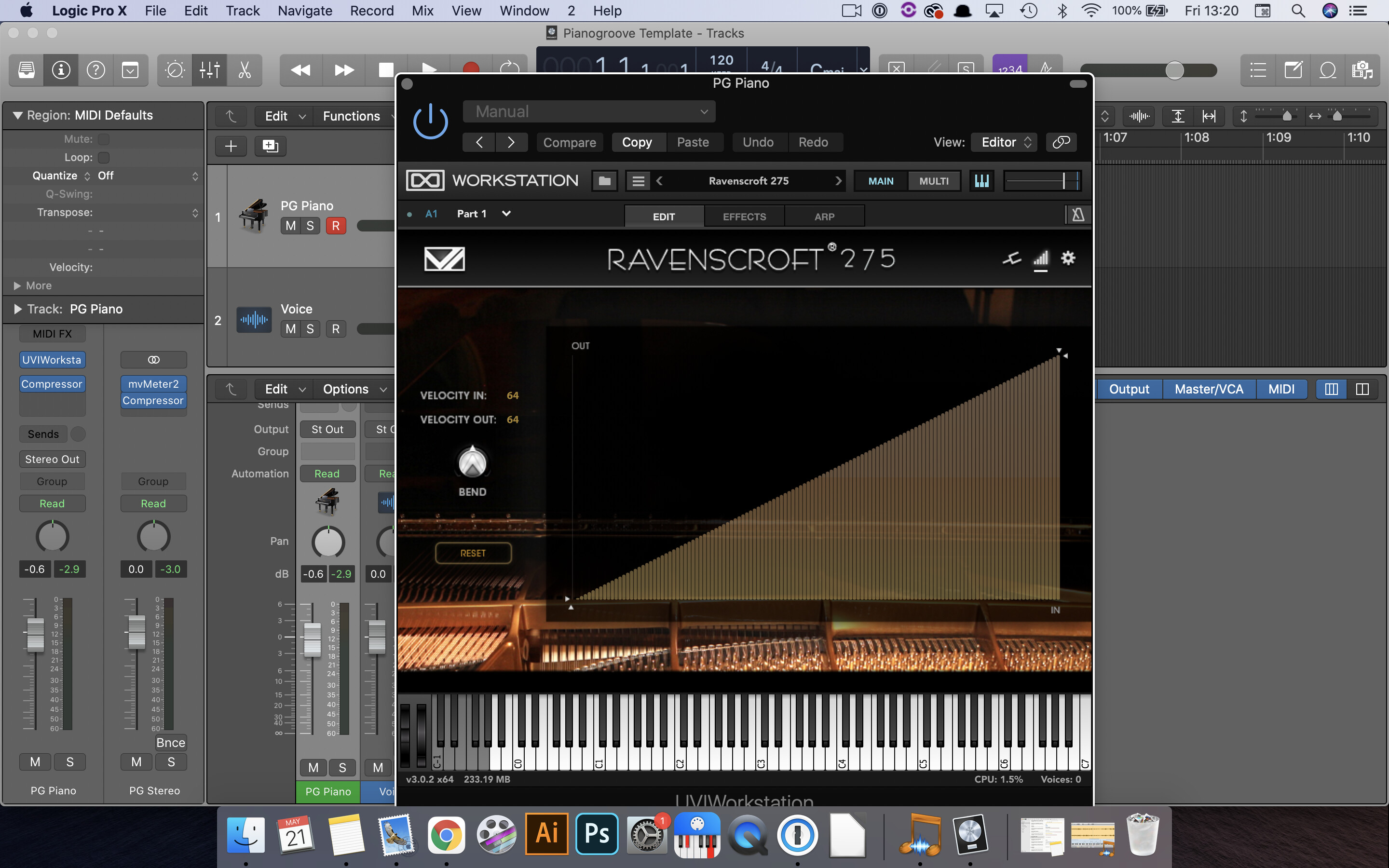 Thanks for this! I'm not sure how that happened or how long it has been like that.
I recorded 2 versions of "How High The Moon" to test the difference. The first recording was with the original Dynamics setting of 43%, and then I dialled up that knob to 96% as suggested and I can definitely hear the difference. Here are the recordings:
Dynamic Setting 43%

Dynamic Setting 96%

The second one sounds cleaner and crisper, less muffled, and just generally much better IMO.
I tried to stick to the same voicings, fills, and personal touch dynamics when playing to make it a fair comparison.
@TomLC - if you'd like me to share any more of my settings let me know.
Following the recent comments in the thread, I thought I'd repost an excerpt from something I offered here in September 2020:
Play around with the various mic settings and their combinations. For example, if you play 100% Side settings (and nothing else), the piano sounds sort of like Bill Evans's piano on the "Time Remembered" YouTube link Hayden recently shared. All's a matter of taste, but it's fun to play around with the various mic placements and their sounds.
Here's how Ravenscroft describes the various settings:
CLOSE: A mix of mics inside the piano placed over the strings and hammers that capture a punchy detailed tone with a big stereo image. Great for pop/modern playing and hold up well in any mix.
PLAYER: A stereo pair of mics that capture the sound heard sitting at the keys and pick up more of the hammer attack. More distant than Close mics, they're great for classical and player's perspective while also mixing well with other mics.
SIDE: A mid-side vintage U87 setup right outside the rim that capture a balance of warmth and detail with a more focused image. Great for jazz and classical and blend well with other mics to add more room or detail. Side mics are also fully mono-capable due to the nature of mid-side.
ROOM: A mix of mics away from the piano that capture the complete instrument along with the room characteristics. Great for classical and for the unique perspective of the room sound and work great blended with any other mics.
Despite my earlier comments, I never really understood how much mic placement could affect the sound. I recently bought Vienna Symphony Library"s Synchron Steinway Concert D-274 virtual piano. It has 11 microphones that you can control. It's incredible how mic placement affects the sound of the instrument. Same instrument, an incredible difference in the sounds it can create simply by adjusting the microphones.
Thanks, @Hayden!
@TomLC I know exactly what you mean about the R275 sounding brighter with default settings compared to what you hear online in recordings (whether pianogroove or the NAMM examples). I suggest that you try decreasing the velocity and see if that improves things. I'm attaching a screenshot of my velocity settings which were achieved by pulling the bend knob down (with the mouse) to create a concave curve. My interpretation of what's happening is that the R275 samples at lower velocities are less bright compared to higher velocities, so a concave curve keeps the velocities mostly in the 30 - 60 range instead of the 50 - 80 range.
Of course that doesn't explain the PG sound since the velocity curve from Hayden is the default linear version! Maybe there is secret sauce in Hayden's Logic settings (I do very little recording, and therefore haven't bothered with a DAW yet).
Hope this helps.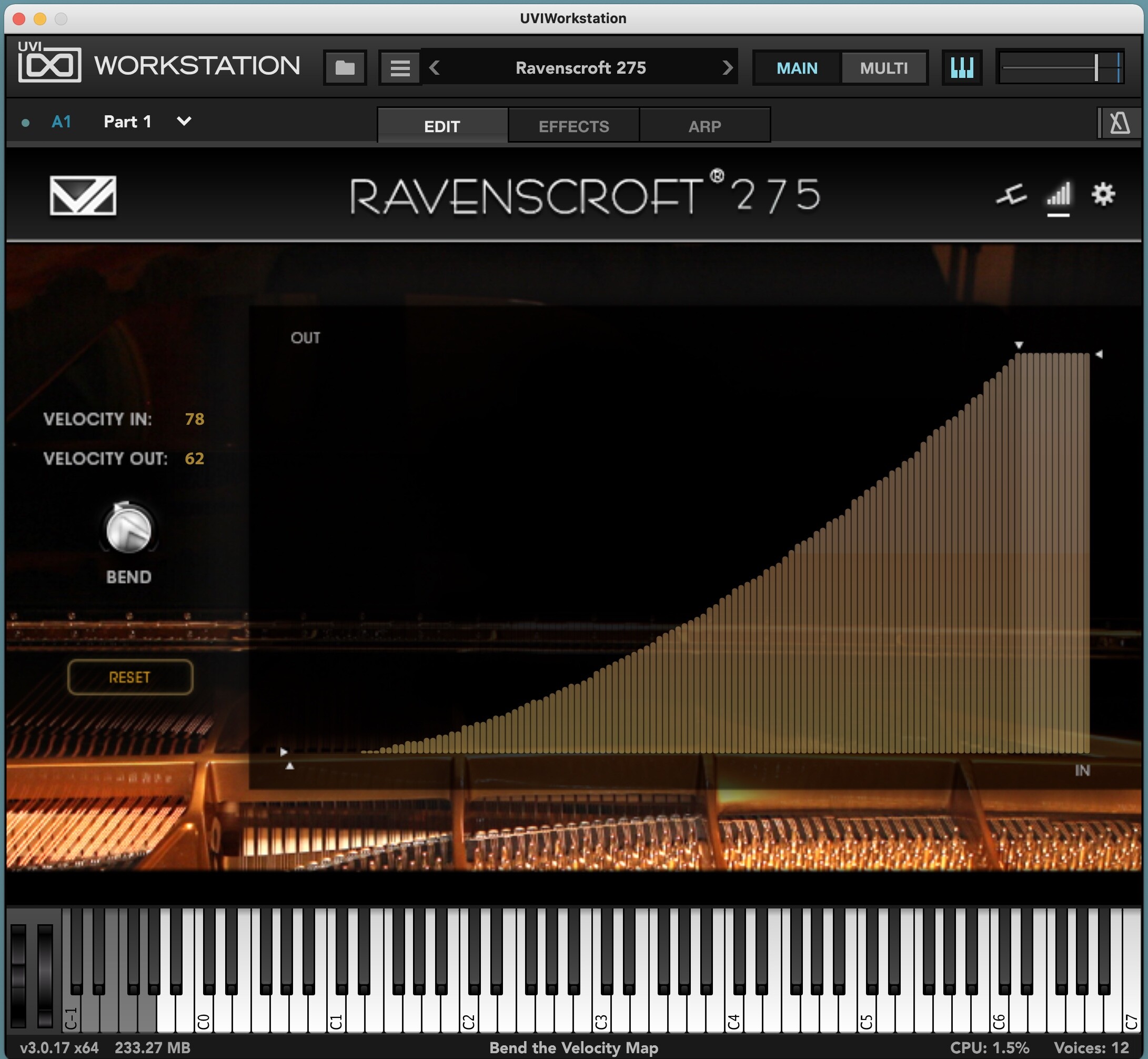 I'm trying to upload my Logic workbook but it's 15GB which seems super bloated for a logic template. Perhaps it has been caching the things I record.
Anyhow I have started uploading it to Google Drive and I will share the link once it's up.
Hopefully we can find out that secret sauce

Hayden,
Thanks for sharing your Logic template! I look forward to looking through it.
I'll let Scott and Greg look at it. It's all Greek to me.