In this thread we explore the style of Chick Corea.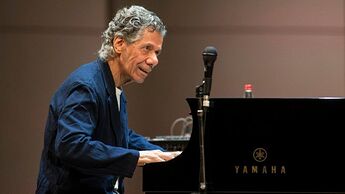 Chick Corea Biography:
Download full biography: Chick Corea Biography.pdf (17.7 KB)
When it comes to musicians who's art has no boundaries between genres, one of the first names that comes to mind is Chick Corea. His career has expanded over 50 decades and counting. He is one of the pioneers and main voices in the birth and development of jazz fusion, has won 23 Grammys, and been nominated over 60 times.
Important Discography To Start With:
Download full suggested discography: Chick Corea - Suggested Discography.pdf (18.8 KB)
What Do These Exercises Cover?
Exercises on this thread are built to give the students a deeper view on Chick Corea's style, soloing, comping as well as an overall look into the tradition of jazz through his artistry.
Exercises are transcription-based, following with a closer look into certain details of his playing. This way we can combine ear-training with learning the language of jazz, as well as analyzing closely what is happening.