So true!!! I feel the same. I feel so fortunate to have found Hayden's site. He is a wonderful instructor!
IT WORKED EXACTLY AS YOU SAID, HAYDEN!! I am referring to the silent intro with the sound kicking in when the tune beings w. chords.
The demo you supplied is terrific, too. It is almost an exact replica of your full transcript, with minor changes, and it helps a great deal, too. I usually simplify some of the chords to fit my ability.
Thank you, I am so happy. Smole
A related question, Hayden: in Over the Rainbow, iRealPro has the traditional intro before 'breaking' into the main body of the tune. Any way to skip that intro (I am working on my own using your instructions)? I suspect not, except if that tune can be edited (which I did not try) or somehow mute the intro (while playing my own that has to be in sync, of course). As we would say in my native country: "the one who asks, does not wonder aimlessly."
Thanks. Smole
P.S. I have decided on my course of action from now on: since it is very, very unlikely I will ever play except for "my own soul", I am now turning my attention to every and all lessons in the PG course to playing solo piano. There is plenty of material in this domain, I am set for who knows how long.
Great question here Smole… this is perhaps the most overlooked features of iRealPro.
You could indeed edit the form but there is a much simpler way to achieve the same result.
How To Select And Repeat Specific Parts Of The Form:
You can highlight/select and repeat a specific number of bars. I have created a screencast for you here:
You can also select one bar, then hit 'play', and that is where the backing track will start from. I didn't demonstrate this in the video above, but it follows the same concept just without dragging to select more bars.
I hope this helps answer your question

I can certainly relate to that Smole! Playing solo is my main passion and where I get the most enjoyment from.
It may be worth noting that many jazz musicians consider improvising over ballads to be one of the hardest types of jazz performance.
This is because when playing on our own in a solo setting, it reveals all of our flaws and inaccuracies.
On the contrary, if we are playing in a band with other musicians, there is less attention on you, and also the rhythm is being driven by the drummer, which takes one of the roles.
When improvising solo piano, it's common to play a stride left hand to establish the rhythm. I think it would be nice for us to revisit some ballad tunes in this style and explore some exercises and concepts for creating simple but effective improvised material.
I will plan a series of lessons on this

Thank you, thank you, thank you. I knew that asking you I'll get a practical advise. Both for the iRealPro and for my next phase of study. I will add recording myself (video or audio) that Dan enabled me to do with his also excellent advice and guidance; that will help with overseeing the accuracy of my playing.
Thanks a bunch, again, and now to work…again. Love it, Smole
"When improvising solo piano, it's common to play a stride left hand to establish the rhythm. I think it would be nice for us to revisit some ballad tunes in this style and explore some exercises and concepts for creating simple but effective improvised material.
I will plan a series of lessons on this

"
Could not agree more now that I am using stride piano style with Tenderly, Over the Rainbow, and Just Friends. Will continue, of course, I seriously follow all your suggestions/instructions. Best, Smole
Hayden, there is more info on how to use iRealPro that may be of interest:
https://irealpro.com/dwkb/practicing/
What you explained in response to my question, iRealPro calls "Looping". You are, of course, right: a very useful feature for a persistent student to use with practice. Best, Smole
Brilliant article there Smole, I'm just reading over it all.
And "Looping" is a more succinct and logical term than my "Select & Repeat"

Wonderful.
The goal is to be able to play the left hand stride without having to focus much attention on it… so that the left hand almost instinctively knows its way through the changes.
This frees up the mind and allows allows us to focus and immerse ourselves on right hand melodies.
It's something I've been working on so we can attack it together. Looking forward!
I recently came across this and thought it might be useful to put a link on the Resources page, especially for new members–or those with questions about iReal Pro.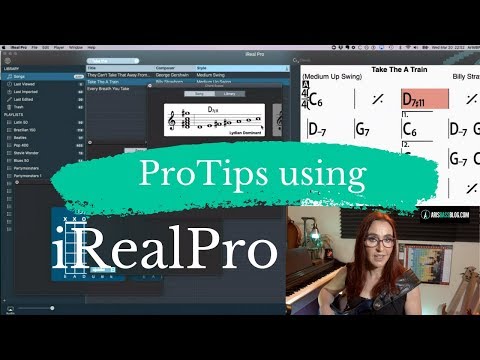 Nice find @scott1 - I've merged the video into our thread on iRealPro.
She shares some great tips… I had no idea about the piano chords/guitar chords feature… amazing what this software can do!
And yes definitely a great idea to send new students here. We have a welcome email, I will add this thread to the "useful links" section.
Hi Hayden and everyone, I have finally downloaded the iReal Pro app, and am very excited about working with it. Do you know how I can add an extra bar of count-in to a song ? I went into Edit Song, but not sure what the icons are ? Many thanks for your help.
Natasha
Hi Natasha,
Not sure what platform you're using, but here's how to set a count in on a Mac:
Click on the image to enlarge it and look at the inset control panel. It should make things clear. Hope this helps.

Hi @scott1, it worked ! Thanks so much



Natasha
Just to share that we can use our ireal pro from our android phones in our Windows PC

it works like a charm.
Just installing bluestacks (still free) and connecting with our same gmail account that we use in our phone, no need to pay a second time.
Ireal pro really a great app when not finding in all your charts , try a search in the forum there are thousands more in it
sharing chords get not any problem of copyright so no problem at all to share whatever you have transcribe - only melody have copyright . Thats one of the secret of this enormous library
i am using the sandbox to share charts for jamming it is so convenient and nice done
some more helpful video using ireal pro to use on our android and pc
https://www.irealpro.com/video-tutorials/android
for intalling bluestacks :
I am a bit frustrated… I just joined "pianogroove."
got started with piano jazz/impro. Out of no where I see
iRealpro… I cannot seem to download in my windows PC.
Very frustrated -please help.
Hi @Thomas_Stallone

I have moved your question to our dedicated thread on iReadPro.
The iRealPro App is just available on Mac computers, not windows computers and so you have 3 options:
1) Download The iPhone/iPad version
The iRealPro app can be used on iPhone/iPad and it can be downloaded from the Apple App Store here:
If you have an iPhone or an iPad you can download it from the above link.
2) Download The Android version
If you have an Android mobile device, you can download the app from the Google Play Store here:
3) Using An Android Converter
It is also possible to run iRealPro on a windows computer, but it involves using an "android converter" which you can see more information on here:
My Recommendation
I would recommend installing the iRealPro App on either your iPhone or your Android mobile device (depending on what brand mobile device is) and then hook this up to a speaker either with a direct cable or via Bluetooth.
The 3rd option is the most difficult to set up, and I have no experience doing this. Perhaps some other community members can help out here. For ease-of-setup I would recommend using one of the iRealPro mobile apps. The iRealPro also works great on mobile and it's simple and intuitive to navigate, load the songs, hook up to speakers etc…
Let me know if I can help further here.
The 1300 Jazz Standards has been updated to 1400 standards. Here's the link if you missed the email:
Jazz 1400 Standards (irealb.com)
They recommend you delete the old 1300 tunes to avoid duplicates in your local file.
Hi @Thomas_Stallone Thomas
If i can help you just ask . where are you blocking ?
We need to install bluestacks on our PC and then it is related to our android account and our gmail so you will have all the android applications you got on your phone , on your PC
I will be happy to help you, if you have problem.