In this thread we explore the style of Bud Powell.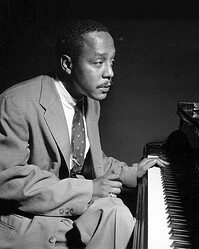 Bud Powell Biography:
Download full biography: Bud Powell Biography.pdf (18.1 KB)
Bud Powell is one of the true giants and innovators of jazz. He is, and has been, an influence to every single pianist and other instrumentalist since. He has been said to be the first pianist who took the bebop language played by the horn players (especially Charlie Parker) and adapted it to the piano.
Important Discography To Start With:
Download full suggested discography: Bud Powell - Suggested Discography.pdf (16.1 KB)
Jazz Giant - Trio w/ Ray Brown, Curley Russell (b) & Max Roach (dr) 1949 & 1950
Spotify Link Here
Amazing Bud Powell - Quintet w/ Fats Navarro (tr), Sonny Rollins (sax), Tommy Potter, Curley Russell (b) & Roy Haynes, Max Roach (dr) 1949 & 1951
Spotify Link Here
Sonny Stitt - Sonny Stitt/Bud Powell/ J.J. Johnson (also released as 'All God's Children Got Rhythm') 1949 & 1950
Spotify Link Here
What Do These Exercises Cover?
Exercises on this thread are built to give the students a deeper view on Bud Powell's style, soloing, comping as well as an overall look into the tradition of jazz through his artistry.
Exercises are transcription-based, following with a closer look into certain details of his playing. This way we can combine ear-training with learning the language of jazz, as well as analyzing closely what is happening.