I'm super excited to reveal the new PianoGroove website design. (If you download the images, you will be able to zoom in and see the full features and functionality of these pages).
Firstly thanks to everyone who contributed their ideas, suggestions and feedback… i have taken it all onboard and it's looking great.
These designs are still static images (ie. they still need to be coded into a website) but I've been working with a very talented graphic designer who has created a wonderful new system for tracking progress and organising the website content.
I've shared a few pages below and bullet pointed the new features and how this will benefit students.
The New Lesson Library Page
The categories from the Lesson Progress Tracker are now displayed in the main video library. This creates 'mini courses' of related lessons and makes the page much easier to navigate.

All lessons are now categorised by Beginner / Intermediate / Advanced so students can find the level that they are comfortable with.

When hovering over a course, logged in users will be able to see how much of the course they have completed.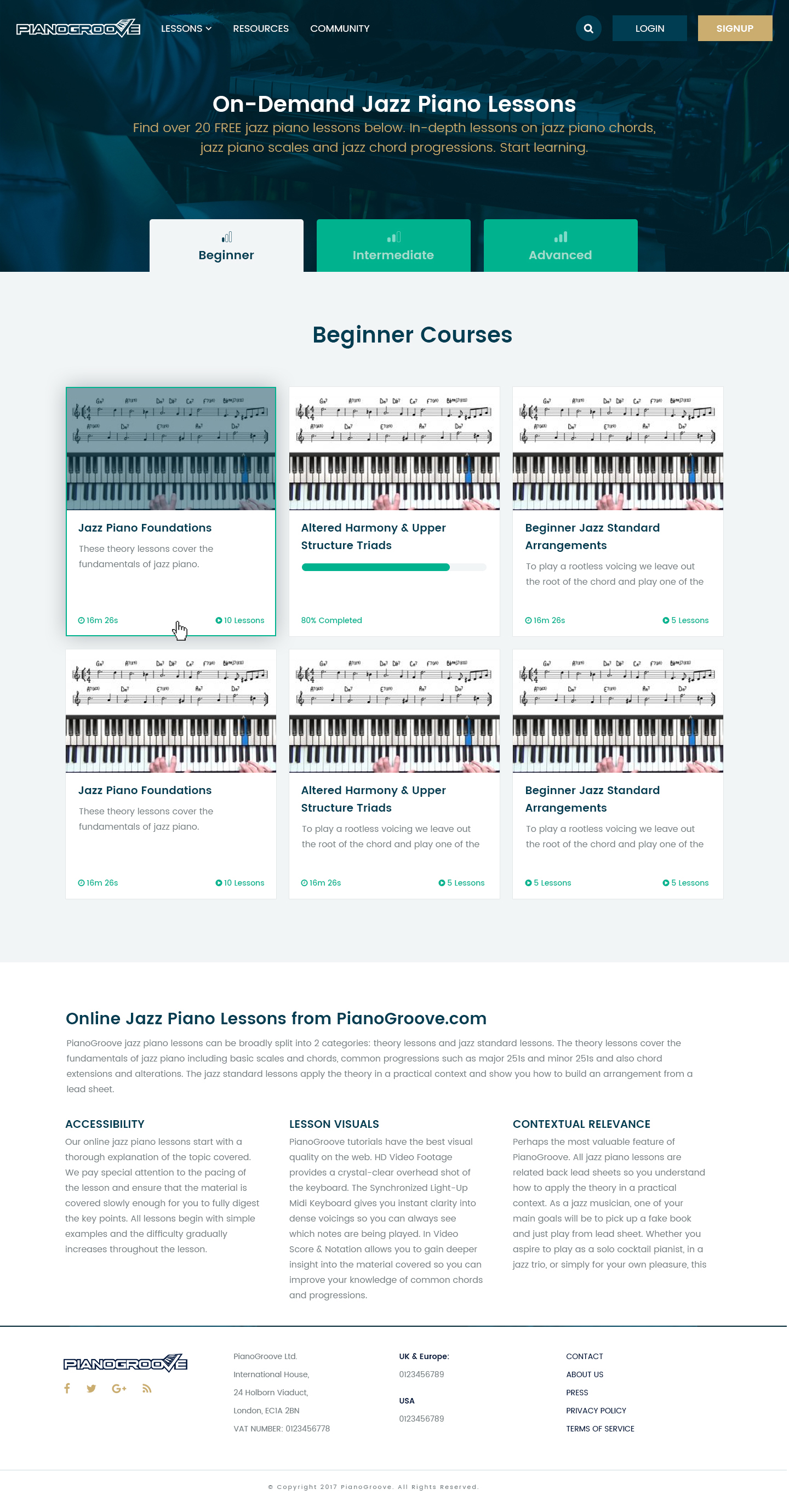 The New Course Pages
These pages will replace the Lesson Progress Tracker. Everyones information will be carried over to the new system.

Each course will have a short video of me explaining what the course is about, what the learning outcomes are, and ultimately how it will benefit your playing.

Course downloads and supplements will be available on this page so that you can find all related materials in one place.

My mission is to make jazz piano tuition accessible to anyone who wants to learn it - no matter what background you are from. This is why I offer a lot of free material on the website as some students are unable to join for various reasons. However, the 'progress tracking' functionality is just for pro students.

The New Individual Lesson Page
This is the page I'm most excited about… it has a tonne of new features.

Firstly, Lesson Chaptering. You will see that under the video, the chapters are clearly marked. This will allow students to jump straight to the section of the lesson that interests them. As the community grows, we have both beginner and advanced students, I want to create lessons that cater for all and so this new system will allow beginner students to start of the beginning, and more advanced students to jump straight to the topics that interest them.

The next thing you will see is a Secondary Navigation that allows you to jump to different areas of the page. These page now contain a LOT more information and so being able to quickly find what you want is important.

Lesson Downloads are now presented on each page, this will include the relevant transcriptions/midi files/lead sheets/audio files/worksheets etc…

Related Lessons - There will be a carousel/slider which takes you directly to related lessons. As many of you know, I refer to other lessons when we touch upon certain elements of theory. This new feature will give you a direct link to the lesson, and save you having to search the website to find the information you are looking for.

Info & Links This section will detail any other relevant information, such as practice tips, notable recordings on YouTube and anything else that I think is relevant, for example a link to a bio on certain musician or a certain style of jazz.

Commenting System - I will be keeping the same commenting system, but you can click 'comments' in the secondary navigation and you will automatically scroll down to the comments to see what others have said and join in the discussion.

I would estimate around 2 months before this new system is in place. I'm almost finalising the designs (any feedback is welcome by the way) and the next step is to find a talented website developer/coder who can turn these designs into a fully functioning website.
I'll be keeping everyone updated and I'd love to hear your comments and thought if you like to share them below.
Cheers,
Hayden.